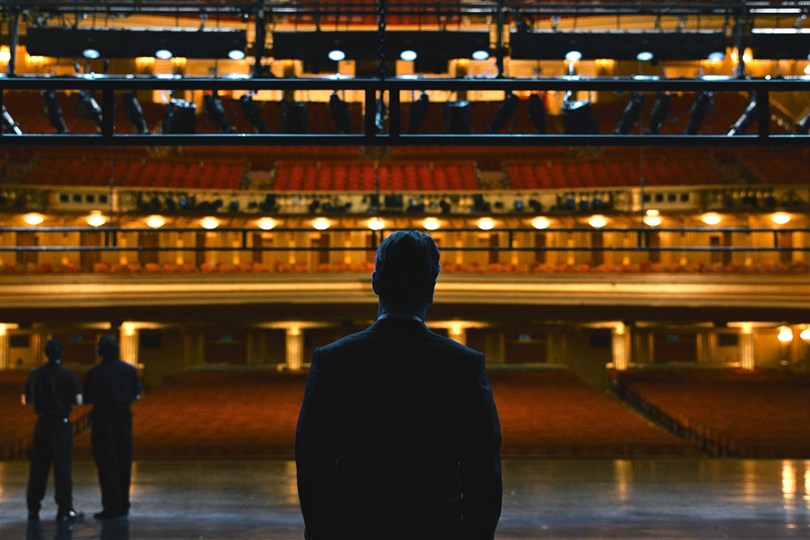 A Fresh Look at 'Steve Jobs' the Movie
Directed by Danny Boyle, written by Aaron Sorkin and starring Michael Fassbender, "Steve Jobs" officially premiered this past Friday in only four theaters in New York and Los Angeles. Those who were lucky enough to witness it were a part of box office history. Vanity Fair reported that the movie took an average of more than $130,000 per theater. That is the best average of any movie released this year! Despite its impressive reviews from Vanity Fair and Rotten Tomatoes, there is still tension about the film from people close to the late Apple co-founder.
A few weeks after Steve Jobs passed away from pancreatic cancer, Walter Isaacson released his best-selling biography, "Steve Jobs." Isaacson provided an honest look at Jobs as the book was crafted from over forty interviews he had with Jobs over the course of two years. The book contributed to an introspective look into the life of the man responsible for turning Apple into the world's most valuable company. In order to provide the clearest picture yet, Isaacson conducted over a hundred interviews with Jobs' family, friends, colleagues, competitors, and enemies. He truly captured the kind of man Steve Jobs was.
Isaacson created an undeniable hit that forced Sony Pictures to acquire the rights to produce a movie based on the biography before the book was even published. The big guns were pulled out for this one, with many big names attached to the movie such as Aaron Sorkin, who is famous for writing "The West Wing," "Newsroom," "Moneyball," and "The Social Network," wrote the screenplay. Danny Boyle, known for films like "127 Hours" and "Slumdog Millionaire," directed the film. And of course, Michael Fassbender as Steve Jobs, best known as Magneto in the latest "X-Men" movies, and the well-known Seth Rogen, from "The Interview" and other comedies, plays Apple co-founder Steve Wozniak.
Jobs' widow, Laurene Powell Jobs, allegedly urged both Sony Pictures and Universal Pictures to cancel the new film. Laurene apparently disliked Isaacson's bio; she claimed "any movie based on the book could not possibly be accurate." Could this be because it brought to light the grueling truth from others about Jobs? Others who knew or worked with Jobs have also criticized the film before seeing it for themselves. During "The Late Show" with Stephen Colbert, Apple CEO Tim Cook said: "I think a lot of people are trying to be opportunistic and I hate this." The film may have stretched the boundaries a bit by bending the truth, but that type of drama comes with showbiz. Even Aaron Sorkin acknowledged that the movie is not meant to be true to life, calling it "a painting, not a photo."
Longtime Apple board member and friend of Jobs, Bill Campbell says, "A whole generation is going to think of him in a different way if they see a movie that depicts him in a negative way. If they want to make a drama, they shouldn't do it at somebody else's expense." Campbell goes on to say, "He's not there to defend himself."
Despite the criticism, the movie has created quite the buzz as a well-made motion picture.  The film consists of three real-time scenes, with each portion of the film giving a behind-the-scenes look at three major product launches. Beginning with the Macintosh in 1984, and ending with the unveiling of the iMac in 1998. At the end of each product launch was a scene that featured a flashback to an earlier time of Jobs' journey. "Steve Jobs takes us behind the scenes of the digital revolution to paint an intimate portrait of the brilliant man at its epicenter," – Universal.
"There are going to be people who say we were rough on him, and there are going to be people who say we weren't rough enough on him. But I think we made a good movie, and I think that if you asked 10 writers to write 10 movies about Steve Jobs, you'd get 10 different movies that wouldn't resemble one another," said director Danny Boyle.
If you weren't able to see the movie during its first week, according to Vanity Fair "Steve Jobs" will next land in more than 60 theaters starting October 16 and then open nationwide October 23. Take a look for yourself, and let us know what you think.