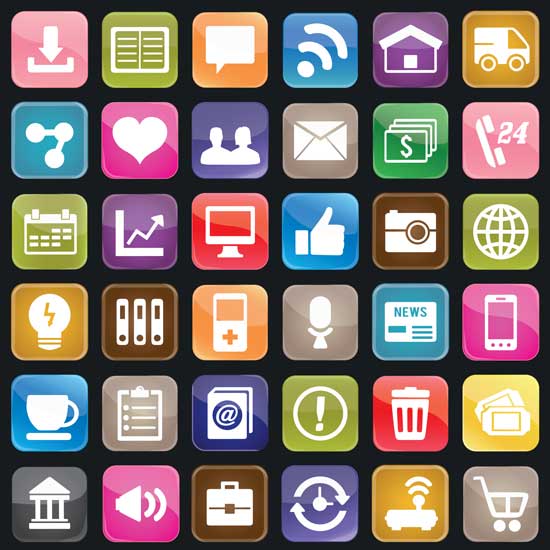 10 Must-Have Apps for the new iPad
When the iPad was first announce nobody really knew what they would use it for, but it didn't take long before we simply couldn't put them down. With over 1 million apps in the Apple App store, there is now something for everyone – from gamers to business professionals. Here are ten must have apps that fit your lifestyle.
1. Gamer – Infinity Blade III. This series has been around since the iPad debuted in 2010, and it is still stands as one of the immersive and beautiful games on the device. (Alternate Suggestion: Monument Valley. A captivating yet simple puzzle game that will whisk you away for hours at a time.)
3. Artist – Paper. A portable canvas at your fingertips (literally). This sketching app is a necessity for any artist, with its variety of drawing tools and virtual notebook that allows you to store and display your work right in the app.
4. Student – Evernote. This is one of the best note taking apps on the planet, and for good reason. It is simple to use and very easy to find content later on using keywords or locations. It has a great image to text conversion feature and can store, files, pictures, audio and videos.
5. Business Professional – Office for iPad. As the most popular and powerful desktop productivity apps available, the iPad version was very well received. Microsoft, despite not being on the best of terms with Apple, has brought us a solid version of Word, Excel, PowerPoint and OneDrive that is chalked full of all the great features you've come to know and love within the Office Suite.
There are so many great apps out there that it is impossible to pick just the best in any in given category. So here are a few more noteworthy apps that are certainly worth giving a try.
6. News – Flipboard. This easy to use personal digital magazine, with its signature flipping page style, brings you customized news and social content on a myriad of topics, including politics, sports, technology, and finance. The more you tell it, the better it can personalize your content. (Alternate Suggestion: Yahoo News Digest)
7. Entertainment – Netflix. With a movie library measuring in the hundreds of thousands, it is no wonder it accounts for approximately 34% of all Internet traffic! This movie streaming app is a must have. Whether you have kids that need to be entertained, are an avid movie watcher or just want to watch a specific TV series, there is a good chance you'll find what you're looking for on Netflix. (Alternate Suggestion: Hulu Plus)
8. Communication – Skype. If you're wondering what service to use for international calling, look no further. With over 300 million users worldwide, Skype accounts for more than 40% of international calls.
9. Messaging – WhatsApp. A simple yet powerful messaging app that allows you to send texts, pictures, videos and voice messages free of charge (even for international messages).This popular app is being embraced by teenagers to business across the globe.
10. Music – Pandora. There isn't a better personal music library than Pandora. It learns from you music preferences and puts together a personalize radio station just for you.