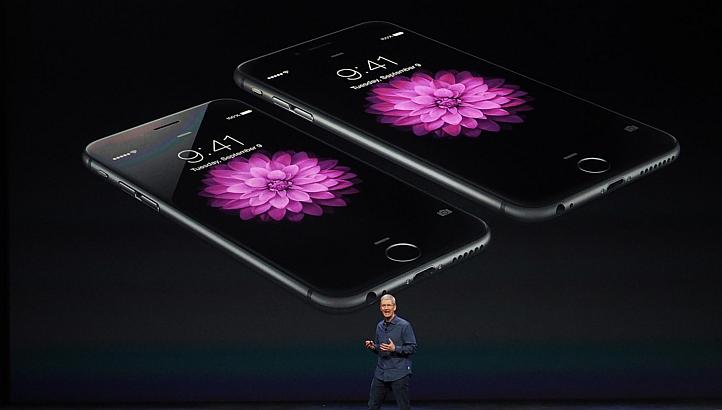 Apple Media Event 2014
Their September event was purposely held at the Flint Center in Cupertino, the same spot where 30 years ago a 28 year-old Steve Jobs stood and unveiled the first Macintosh personal computer. There was no doubt that Apple was preparing to announce something big.
The first unveiling was the much anticipated iPhone 6 ranging from $199 to $399, which will be released on September 19th and will include the new iOS 8. The iPhone will be receiving upgrades both inside and out. Apple has finally decided to offer larger 4.7" iPhone 6 and a 5.5" iPhone 6 Plus screen options, each with incredibly high definition screens (1334 x 750 and 1920 x1080 respectively) each in 16GB, 64GB and 128GB versions. Some new curves and textures give a familiar but refreshed looked. Some other notable upgrades include a new A8 process that is 25% to 50% faster than its predecessors, which will power a new video gaming framework called Metal that is capable of producing incredible gaming experiences on the device, all while deliver up to 50% better energy efficiency.
We all have the need for Internet speed, and the iPhone comes through big with LTE speeds reaching 150mpbs and 3x faster Wi-Fi. Voice over LTE has also been introduced which means that different carrier networks may soon be consolidating to allow our data and voice to all ride over the same network and expand our coverage area. That's very good news for anyone who has ever had a dropped call or bad cell reception.
Apple put considerable effort into enhancing the camera capabilities in the iPhone 6, which include a new 8 mega-pixel camera with 2.2 aperture and new "Focus Pixels" sensor that allow the iPhone 6 to produce some of the most stunning photos from any phone to date. They've introduced some handy features such as face, smile and blink detection, continuous autofocus, slo-motion video and ultra high definition video recording.
Next up Apple showed us what the wallet of the future will look like (hint, it's an iPhone!). With the unveiling of Apple Pay, our plastic credit cards have been relegated to a thing of the past. Using Touch ID finger print security and digital cards, there is no longer a need to carry around plastic credit cards with you. Over 220,000 merchants currently support contactless payment and it's as simple as swiping your phone in front of a scanner. We'll be enjoying more convenience and better security packed into one. No more having to worry about losing credit cards or stolen numbers. Now if you lose your phone you can simply us Find My Phone feature at Apple and remotely wipe the device and protect all cards, no need to cancel and reissue. Online shopping will also be easier from your iPhone now that you can authorize transactions using your digital card, no more entering or storing your credit card on random websites.
And then there was "One more thing…". Apple has always been known for their consumer devices and changing our day-to-day lives in ways we never even knew we wanted. With mounting excitement they announced the Apple Watch.
This device is the most personal device Apple has ever made. It is more than a watch, it is a communication tool, a health monitor, a GPS and a credit card all wrapped into one. With several beautiful band options this sleek device aims to redefine the wearable technology market. It can provide subtle email or text notifications that you can then read on your phone, and you can actually feel if you should go left or right with physical feedback when using the GPS. You can use the device to track your activity and calorie burn-rate at the gym or throughout the day. The opportunities are endless here and with the availability of WatchKit, I'm sure the development community is going to be coming out with some really great software to take advantage of this new device in the very near future. The Apple Watch will be released in early 2015 starting at $349.
This was originally posted by the Press Enterprise