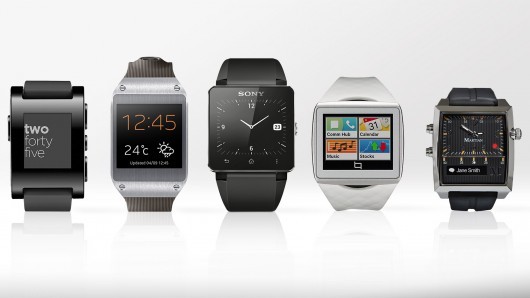 The Year of the Smartwatch
The explosion of wearable technology is upon us. 2015 will become know as the year of the smartwatch as industry experts are expecting to see wide spread adoption of wearable technology, especially with Apple entering the ring with their Apple Watch by Spring 2015. Each of these devices include standard features like answering phone calls and alert notifications, but I dug a little deeper to really help you pick the smartwatch of your dreams. Strap in and get ready for some exciting new tech coming your way in 2015!
Pebble Steel is one of the few smartwatches that can sync up with both iPhones and Android phones. Its classic rectangle face has an average sized 1.26 inch display with a black & white screen (no color here folks), and has interchangeable band options. This does give it the unique advantage of being very visible in daylight though. It is also water proof, making it ok to wear when showering or swimming. It boasts an impressive 7 day battery life, but does forego a built in heart rate monitor and haptic feedback features that come in some of the other top devices.
The Pebble Steel is one of the least expensive smartwatches on the market, dropping in at around $150, which makes it a very solid choice for anyone looking for a lot of value at a lower price tag.
Moto 360 is one of the most stylish and elegantly designed smartwatches on the planet. It is an Android only device, so iPhone users won't be able to sync up with this little beauty. Motorola has outdone itself with its ambition round clock face, allowing for an above average 1.56 inch screen size. You can switch out the bands with a little effort, and it has six pre-loaded watch faces (that are not customizable) to give it different looks. Google does offer additional watch faces for download through the Google Play Store Androidwear section. It is compatible with Qi wireless chargers, which are used in many other Android devices as well.
From a hardware innovation standpoint, the Moto 360 lags behind the other leaders a bit. It has an average 2 day battery life, and the responsiveness of its Texas Instructions OMAP 3 processor pales in comparison to some of the more powerful devices. It does pack in a pedometer and heart activity tracker though, which is a nice touch in case you have a New Years resolution of being hounded by watch to work out more!
What the Moto 360 lacks in hardware, it certainly makes up for with software innovation. One such instance is the inclusion of the Google Now personal assistant. Arguably the best digital assistant available today, it includes voice commands, points of interest locations based on your past search results, airline schedule information, sports scores, traffic alerts, and much more – all context sensitive and in the moment. The Moto 360 clocks in at about $250.
Apple Watch (to be released in Spring 2015) will be available in three models – Watch, Watch Sport, and Watch Edition (including an 18 karat gold trim option). This highly anticipated device will offer a full color 1.5 or 1.7 inch color display, and is compatible with iPhone 5 and above. Apple continues its trend toward health and fitness by including a heart rate monitor and accelerometer to measure total body movement. While exact battery life is currently unknown, Apple has disclosed that it will need to be charged nightly and uses a Magsafe inductive charger similar to that on MacBooks.
Apple is known for its elegant design and attention to detail, and the Apple Watch is no exception. From its scratch resistant sapphire face to its easily interchangeable bands (both leather and stainless steel options available), your wrist will no longer just be that boring spot between your hand and your elbow!
The Apple Watch has some great features available right out of the box, including NFC for contactless payment using Apple Pay, as well as a "taptic" feedback chip that gives you the sensation of being tapped on the wrist when you get a notification. It will include several apps such as mail, calendar, maps, pictures, weather, music, phone calls and Passbook.
There are a few primary ways to interact with the smartwatch apps, including voice commands for Siri, the digital crown that allows you to twist to zoom and push to return to the home screen, as well as Force Touch which can tell the difference between a tap and a more forceful press, giving you a whole new range of interaction possibilities. The Apple Watch will set you back $350 to $500, depending on the model you choose.