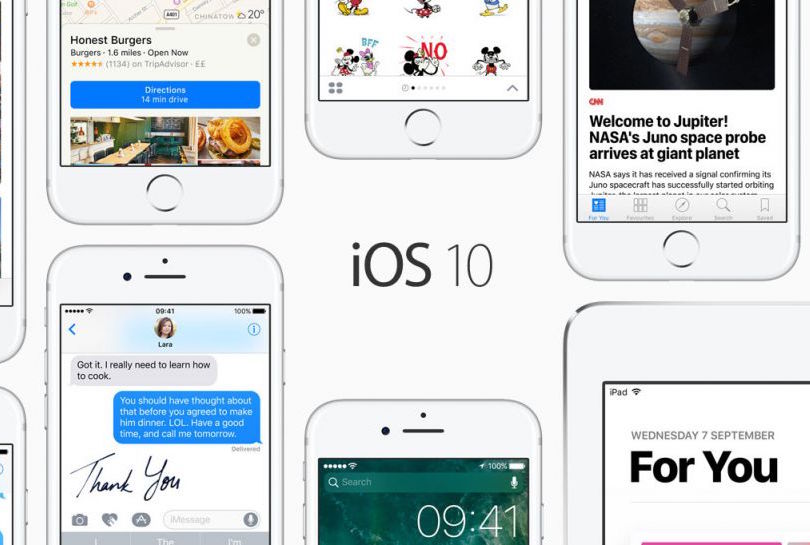 iOS 10: Do You Like or Dislike the Update?
During Apple's recent iPhone 7 launch event on September 7, Apple unleashed iOS 10. The software is almost unrecognizable and is said to be the largest update since iOS 7. It's going to take users some time to wrap their heads around the new functionality of the mobile operating system – with that being said, iOS 10 hasn't necessarily received the warmest welcome from all Apple consumers. Regardless of whether you're a fan or not, the software update changed the way we use our mobile device.
While you may already be familiar with some of the broader iOS 10 features such as all of the trendy new things you can do in Messages and the long-overdue overhaul to Apple Music, there are a few features and hidden software tweaks you may have overlooked.
New Features & Updates
One of which is the 3D Touch shortcuts that allow iPhone and iPad users to interact with their devices without unlocking the screen. For example, if you call up the Control Center and then apply a 3D Touch to the Flashlight icon, you can adjust its intensity between three different settings.
More than 100 new Emoji's have paved their way into iOS 10 – you've probably had a bit of fun with this one. As Apple describes it, the new Emoji changes have brought "more gender options to existing characters, including new female athletes and professionals" while also adding "beautiful redesigns of popular Emoji, a new rainbow flag and more family options." You'll also note that Emoji in iOS 10 are three times larger than before. Now you can Emojify your text messages when you type a word that corresponds to an Emoji. However, some users seem to despise all the new tricks in Messages. Maybe it was too much change for them adjust to.
Contextual predictions in Messages and Mail are much smarter. For example, if a friend asks "Where are you?" users will be prompted to tap a button to immediately share their current location.
Other noticeable changes are the "Press home to open command" which used to be "Slide to unlock." I can't tell you how many times I've swiped to unlock! Although, the upgraded way to unlock your phone is meant to make things easier, it almost seems to have the opposite effect. We've become so used to sliding across the screen that it's become a natural reaction.
Apple devoted a lot of resources towards improving everything about Apple Maps, from the navigation UI to the apps underlying functionality. Along with its many new functions, iOS 10 is now smart enough to know when you go out for a drive and park your car at a new location. For instance, iOS will automatically remember where you parked and place a pin on the Maps app to quickly find your car later.
The new "Memory" feature allows Photos to recognize faces and events and can sort and organize them into albums. But is this really necessary? Not everyone is a fan of more albums, and specifically an album just for faces picked out of your photos.
Apple Music does not only bring the latest music to the owners but it also allows them to view the lyrics. The user can also take pictures without the music being interrupted.
A few other tweaks include: avoid toll roads in Maps, quickly search for a phrase on Safari, call an Uber/Lyft and other available third-party apps with Siri, fast access to Battery/Cellular Data/Wi-Fi controls, new Stopwatch face, raise to wake ability and much more.
And finally, at long last! iOS users now have the ability to delete apps such as "Stocks." Apple has given users the power to delete any pre-installed iOS apps, except for a few necessary apps like "Phone." Now you can really de-clutter your phone and get rid of any un-used apps.
What's your favorite feature, or better yet, which feature do you dislike most?