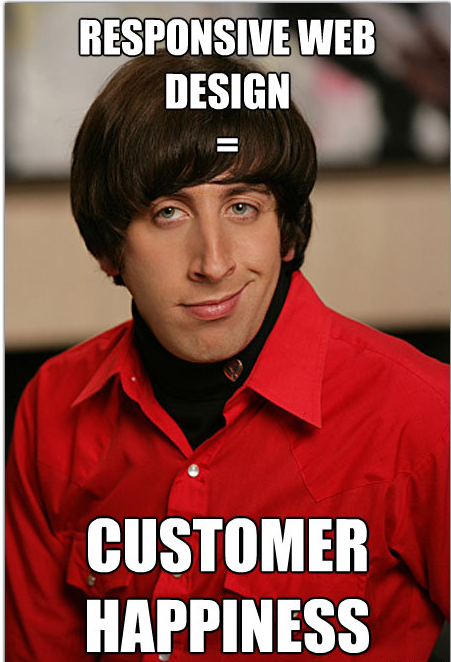 Responsive Web Design = Customer Happiness
If you haven't heard of Responsive HTML yet, you will. It is emerging as one of the more important website technologies in recent years. If you're planning on building or updating a website in the near future, then Responsive HTML needs to be part of your game plan.
Gone are the days where you just have to build a website to work in multiple browsers; now you need to also support a wide variety of screen sizes. Responsive HTML solves this by allowing a website to "respond" differently based on the screen size of the device that is viewing it. For example, if you're on your desktop monitor then the site can be viewed in its full glory – but on a mobile phone things often need to be re-positioned, small links changed to touchable buttons, and some elements should disappear all together.
Responsive HTML is essentially three key pieces of technology. CSS3 media queries, which is used to figure out the screen size of device viewing the site, and Fluid Images Scaling which allows an images to fluidly shrink its dimensions down so that it stays within the viewable area of the screen without requiring scrolling, and Adaptive Images which allows the website to return an optimally sized images based on the screen size.
Responsive design should be included when building new websites (Dear clients, you can thank us later). We understand that user experience is incredibly important, and with consumers accessing websites from a variety of different devices and the explosion of mobile browsing – it is a must that your website can adapt to their needs. By building in responsive technology now, it future proofs your site and gives you instant support on your visitor's device of choice – whether that be a desktop, laptop, tablet, or mobile phone.
Now that you have an understanding of what Responsive HTML is, you might be asking yourself how it would benefit you. Let me leave you with this little nugget. If you are in a business where your customers often have need to find you when on the go, such as restaurants, coffee shops, or hotels – you will see immediate benefit from having a adaptable website that makes your customers lives easier, and helps your brand rise above the crowd. Even if you're not in this group, mobile traffic is expected to surpass desktop traffic in the near future, so get ready – it's coming.