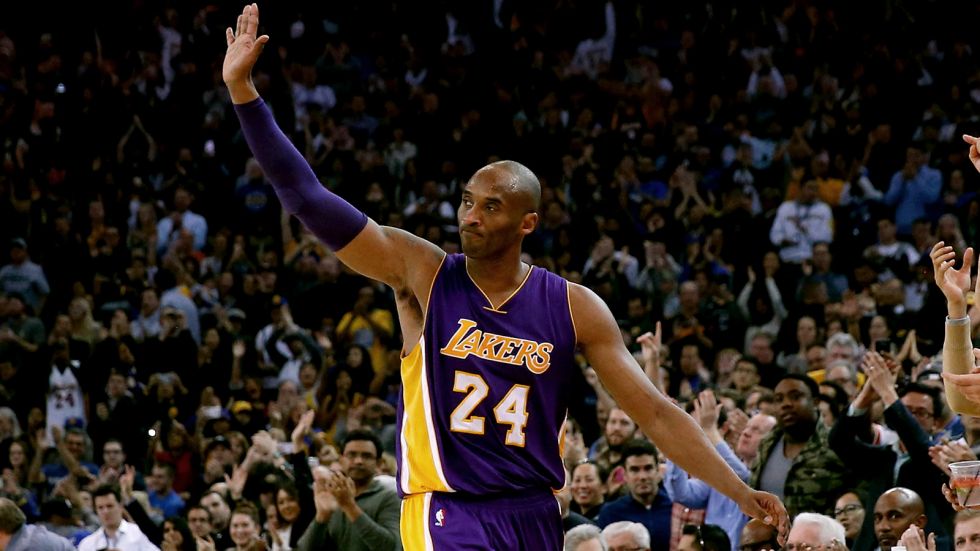 Kobe Bryant's Mark in his Career — Finish Strong
What can we learn from Kobe Bryant's last game? That it was time for the old man to lace up one last time? How crucial it is to finish strong? It doesn't matter where you start, it's how you finish. What does that mean for your app business?
Kobe concluded his remarkable 20-year career with one more unforgettable performance, as the retiring NBA star scored 60 points in Wednesday's 101-96 win over Utah. Bryant admitted he was left "in shock" by the 60-point performance in the final game of his career, but what's more amazing about his performance is the build up to that last hoorah.
The Lakers were desperate for that win on Wednesday night, not only in Kobe's honor, but just to hold on to any shred of dignity after their poor season.  For most of the game, it didn't look like the LA Lakers even had a chance at a victory as they trailed the Utah Jazz by 10 points with just over two minutes to play at the Staples Center. But then, Kobe picked his team up for one last time to lead them to the finish line.
It's amazing how much our everyday lives can be related to one game. For any former athlete, you know exactly what we're talking about. The up's and down's of a season (your career), the thrill of winning (a promotion or landing a job), the defeat of losing (coming up short with a client or losing your job), the art of mastering your time (time management within your work day and conquering your work load), holding yourself accountable, learning to be responsible and SO much more. It isn't just about putting on that jersey or pulling up those kneepads each day — it's more than that.
Kobe Bryant entered the NBA directly from high school and won five NBA championships with the Lakers. He made it his lifework to be a professional basketball player. Just as we have made it our lifework to design and develop apps for aspiring app companies. Or those that sought out to be doctors, artists, chefs, and entrepreneurs. Where you started ceases to matter, but how you finish… now that is everything. Execution is everything. Your business might have started in your parents' garage with just a few friends, but what you make of it is what people are going to remember.
Bryant is an 18-time All-Star, 15-time member of the All-NBA Team, and 12-time member of the All-Defensive Team. Kobe was often cited as one of the most dangerous scorers in the NBA. He established a reputation for taking shots in the closing moments of tight games. He was a closer.
Although Kobe entered the NBA at 17 and ran that court for years — his time as a star was nearing its end as the Lakers began to decline. After recovering to play in the 2015-16 preseason, Bryant suffered a calf injury and missed the final two weeks of exhibition games. Back in November 2015, the Lakers had a low record of 2-12 after losing to the Warriors 111-77 as Steph Curry and his teammates rose to 16-0. Bryant began his retiring season scoring just four points in 25 minutes on 1-for-14 shooting, matching the worst-shooting game of his career! He continued a trend of shooting air balls that season. At that point, many Lakers fans and NBA fanatics were losing hope in the "black mamba." Rumors floated of how he should have bowed out long ago.
Low and behold, Kobe's final game wasn't anything like the treacherous path he was on leading up to the Utah game. His body may have been broken down and ready to crumble, and his percentage of shots made definitely dropped — he just wasn't the Kobe we all remembered. He sure as hell didn't let that define how he was going to play that night.
Your app needs to finish strong — go for that clutch shot in the final minutes of the game regardless of your failures leading up to that moment. Fail, and fail again. Take chances. You never know what could be made of your failures if you don't put in a true effort. The road to victory is grueling, it's tough, it's real, and it's raw, but no one said it was going to be easy.
The process of creating your app is going to take every ounce of energy you have to make it just right. It may wear you down, and you may have doubts. You may get frustrated, it may not always look and feel the way you want it to, and there are times that your just going to want to retire the idea all together. But like we said, it's a process, and for it to be successful it's not going to be all hearts and roses. But we'd be lying to you if we said all of that work wasn't worth it in the end.
Finish strong.