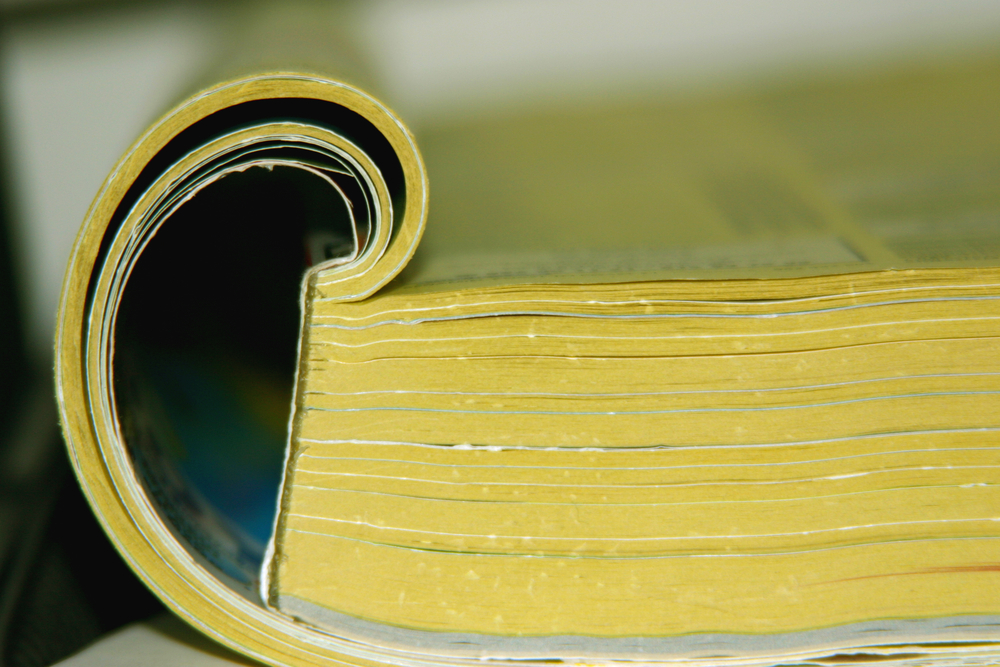 Back to the Past: Old Technology
My, how technology has grown! Just yesterday we were using the Yellow Pages to search for information before the internet bloomed. And it wasn't too long ago when we read the Newspaper to keep up with the world news before apps hit the market.
Recently, our new office received a big ol' book slapped on the pavement outside our doors. Just as we started to believe Yellow Pages — or as John Driscoll calls it, "paper Google" — went extinct, here it is staring back at us. What the heck are we going to do with this when we all own a smartphone, laptop, tablet, desktop computer, and anything else smart you can think of.
In 2007, Chris Smith, President of Argent Media, pointed out that Google Trends showed declining searches for "Yellow Pages" while theorizing that this indicated reducing consumer interest in print and online YP sites. So why are they still sending phone books to offices?
Technology is a funny thing — current generations are baffled by the fact that their parents or grandparents had to look up restaurants, doctors offices, or florists from a book with thousands of pages. Ain't nobody got time for that. Or the fact that past generations used to call "411" to hunt down information. Yes, people used their phones to dial "411" rather than pop open their screen to search Google, open an app or text their parents for information.
Back in the day, people used to call theaters to find out movie times. We used to have to wait on the phone for 10 minutes for the movie we wanted to see, finally be announced. Back before Fandango was released, movie goers would actually have to buy their ticket from the clerk. There was no purchasing your ticket through an app, or selecting your seat in advance. But lucky us, there are apps like Flixster, Showtimes and IMDb Movies that bring all the information you need about the nearest theater, ratings, reviews, and movie times at the touch of your finger.
There was a time that you either paid to see the movie in theater or you didn't see it all. Back before cable and movie channels. Back before DVD's and VHS cassette's. Nowadays, movies that are released in theater are flipped into DVD, or available to rent or buy from your cable company within months. Technology has increased the time of exposure to big name movies. By the time you muster up the energy to see Dead Pool in theater, it will already be available to view in your own living room.
Remember those old phones with all those buttons that people used to have plugged into their walls that barely rang? Oh wait, people still own them! Landlines couldn't be more of a thing in the past. When everyone in your household owns a cell phone, including your 12 year old, it's safe to say your landline is a waste of space and energy. Why would someone pay for that? Smartphones are quite spectacular when you get around to figuring out what all they can do for you, including dialing and receiving calls.
These are things that nobody does anymore. Nobody goes to a travel agent anymore. Not when there are convenient websites and apps such as TripAdvisor, Expedia, Trivago, or Kayak that take care of everything including your flight, hotel, and transportation. Remember when you used to have to call to get an airline ticket? No one takes their film in anymore to be developed. Rarely do people call in to order take-out. Even hospitals have begun emailing patients their results.
The things that we used to pull our hair out doing has become a thing of the past. It is outdated technology replaced by the internet, apps, and more. You could say that current generations have it pretty damn easy with all the advanced technology.