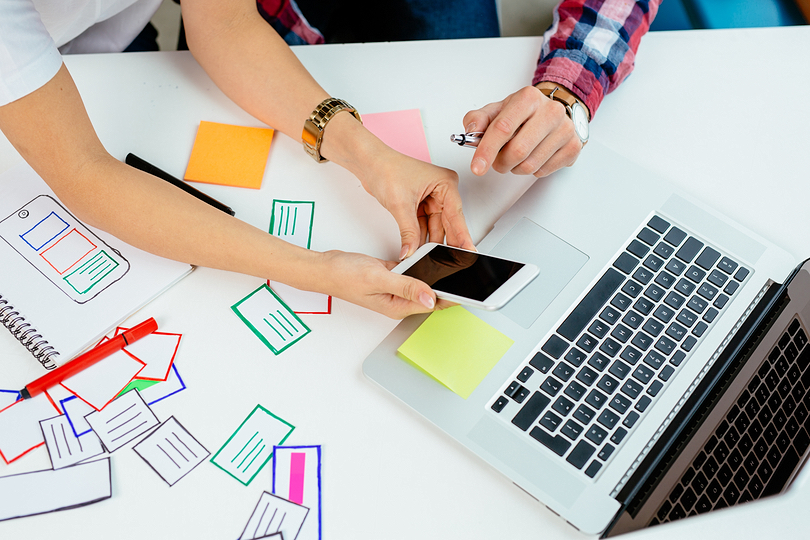 What's Trending in Mobile Apps?
It's time to expose one of the major factors in success of a mobile app – its design.
Mobile app businesses that don't provide their users with a great experience are creeping towards flat-lining. Users nowadays don't have the time or patience for apps that don't meet their standards. It has become crucial for designers to prioritize the user experience when designing mobile apps. You may have a functioning app, but is the design meeting the needs of its users?
User Interface
Simple is the way to go. The trend of simplified designs has continually been making its way across many apps and even into popular software's such as Apple and Android. Minimalism is now the name of the game. We went from the ultra-detailed, skeuomorphic designs to the now popular flat designs. A flat design puts emphasis on clarity, simplicity and functionality which looks great on a digital screen. Designers now use blank screen space to their advantage. It is used to highlight and maximize the empty space, allowing users to focus on other elements bringing simplicity to the app.
Color Scheme
Less is more… are you beginning to sense a theme here? Users prefer a blend of subtle and simple colors, and if you really want to win them over, clutter-free is a touchdown for the win. What are the colors of your brand? Have you narrowed it down? Will it attract users or turn them away? Create a palette of colors and see how they work together, and if they match your theme.
Wearables
What was once a foreign object that didn't seem like it was going to catch on (like wireless headphones…) is now a hot item. Wearables are now mainstream devices and designers are focusing on the principles of wearable apps as they differ from mobile app designs. Features such as gesture driven actions, audible alerts, text messages and more can all be decorated to attract users. Designers have now entered into a new way of applying exciting user interactions.
Micro-Interactions
In other words, a single, task-based interaction. The iPhone 6, 3D-touch is a prime example of this UX function. The 3D-touch has the ability to simplify your user interactions by reducing the number of steps needed to complete a task. Plenty of banking apps have implemented the fingerprint login to quickly access accounts, rather than forcing users to type in the username and password – time we don't have anymore, apparently.