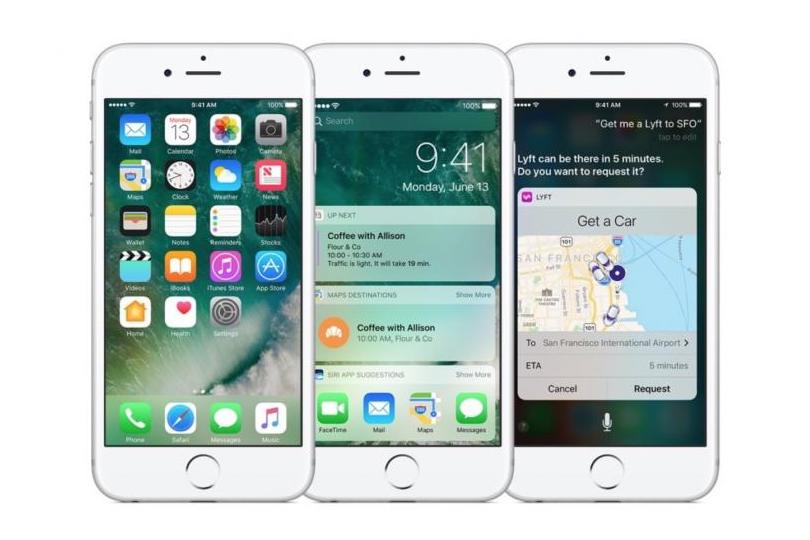 What's New on iOS 11
Apple unveiled iOS 11 back in June during its Worldwide Developer Conference, but it has been some time between then and the actual release to the public on September 19. This not so little gem is full of surprises and features you may have forgotten about or went unseen.
Siri
Siri's interface gets a refresh and has enhanced male and female voice tones. It'll suggest follow-up questions you can ask by tapping on them. Multiple results for a search topic will help reduce error. Even more, Siri can now translate languages like English to Chinese, French, German, Italian, and Spanish.
Siri will now suggest topics you'll want to know based on what you're doing, like a news item, respond to a message with your location, or make a calendar appointment. It will learn words from articles you use and suggest them when you type. As well as, be available for more third-party apps, which means you can ask for a ride, pay a bill and start a workout all with a voice command.
Camera
A video will take up a lot less storage space, thanks to new compression technology. Low-light portraits will take advantage of optical image stabilization and HDR. You can loop a live photo to make a movie or you can trim and edit them and grab and save a still frame from the Live Photo.
Also, new long exposure effect can help you take great nature shots of moving water and more. Movies captured in "Memories" will now play in Portrait mode, not just landscape.
Lock Screen
The lock screen will be able to show all your notifications (if you want). Scroll up to see notifications from the lock screen and swipe to get to widgets on the left and the camera on the right.
iMessage
When you sync to another new device iCloud will automatically sync all your conversations, which also means if you delete it on the iPhone, it'll delete on the other device, too. iMessages also has an app drawer, to make it easier to find stickers and other things alike.
Apple Pay
Now you can send peer-to-peer payments using iMessages. Suggestions that you pay your friend pop up from within the keyboard of your iMessage. Make purchases and bank transfers this way, as well and easily authenticate the payment with your fingerprint.
Apple Maps
Apple Maps takes you inside laying out the detailed airport and mall floor plans where you can browse by floor. You can now track your speed within the app like Waze does. There's also guidance to tell you which lane you'll need to change into – that's awesome!
Apple CarPlay
In efforts to keep people from using their phone while driving, when you install iOS 11, you'll get an option to turn on Do Not Disturb While Driving mode. It'll chop out notifications and leave your screen blank when driving. If you're not actually the one driving, you can tap to turn the mode off. To boot, there's an auto-response to let people know you're driving. If the text or call is urgent, some special people will be able to get your attention, if allowed.
Apple Music
You can now play music in multiple rooms through different speakers through an AirPlay 2 protocol. Multiroom audio will also work with third-party apps. You can make playlists public to your friends. Third-party apps, such as Shazam, can automatically add songs it identifies to your collection.
App Store
Apple totally redesigned the App Store. There are separate tabs for Apps, Games and Today's featured apps. In-app purchases will also get a featured spot like to show off a brand-new level or character you can buy.
Secret Features
Sharing Wi-Fi Passwords: iOS 11 has a quick way to share your password. When someone is using the same Wi-Fi network your phone is on, you'll get a notification. By tapping "send password," they can jump on the network without having to manually enter complicated. This only works with other devices running iOS 11 or macOS High Sierra and when Wi-Fi and Bluetooth are turned on.
Take Live Photos of video calls: While on a FaceTime call with someone, you can take a Live Photo and save the moment. To take a Live Photo of someone during a FaceTime call, press the white button in the bottom left corner of the screen. Both participants need to have iOS 11 running and Live Photos turned on for it to work. The other person will get a notification that they've been Live Photo-ed. You can prevent someone from taking Live Photos of you by turning off the option in FaceTime's settings. However, they can still use screen recording during a call (sans audio) and you won't be notified.
Save web pages as PDFs & add notes to share: In Safari, you can select the share button at the bottom of the screen and scroll to the right until you find the Create PDF option. The next screen will show a tiny marker icon in the top right corner. Tap and start annotating.
Doodle on screenshots: Now when you take a screenshot, it will appear as a thumbnail in the bottom corner of your screen. Tap to start marking it up and then send it off to a friend or save it to your camera roll.
Send Silly Messages: Apple added a ton of features to Messages like stickers and balloons and has added a line of apps along the bottom of messages. You can tap around to see which of your existing apps have Messages stickers and integrations. There are also two new animation effects, spotlight, and echo. Spotlight darkens everything but puts a bright light on your latest text. Echo covers the screen in floating copies or your message.
Customize Shortcuts: You can customize what shortcuts appear in the new Control Center by going into Settings. Add shortcut buttons for things like screen recording, voice memos, and the magnifier tool.
Enjoy!